Komyo Reiki Kai
About Hyakuten Inamoto

Hyakuten Inamoto is Buddhist monk from the Pure Land sect of Buddhism.

Inamoto studied all levels of Reiki training with Mrs. Yamaguchi-who passed away the summer of 2003.
Mrs. Yamaguchi held with the tradition of never writing anything done. She practiced the oral teaching of Reiki training.

Mr. Inamoto created a Reiki manual from his memories of his teaching with Mrs. Yamaguchi and he has chosen to name his sytem of Reiki, "Komyo Reiki".

Mr. Inamoto is fluent in the English language and is teaching his system of Reiki in Japan, the United States, Canada and Europe.
Inamoto's Lineage

Mikao Usui
Chujiro Hayashi
Chiyoko Yamaguchi
Hyakuten Inamoto
Francine Milford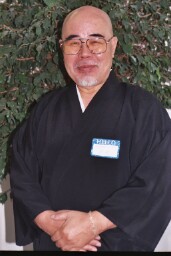 My Observations

The moment I saw Mr. Inamoto's face on a website advertising an upcoming Reiki Master class in Boulder, Colorado-I knew I had to go and meet this Reiki Master who's image exuded the essence of Reiki energy.

I was glad I went.

Mr. Inamoto possesses that qualities that I value in a Reiki Master. A quiet and demure nature with vast stores of knowledge and understanding. A compassion and love for fellow humans. A respect of the interconnectedness of all things. A confidence within himself that exudes trust and knowingness.

I have been blessed through the meeting.
Contact Francine
Link to Reiki Center of Venice